On Wednesday, we revealed our April Amber Grant finalists.  Today we're here to announce the $1,000 recipient and the qualifier for our $10,000 year-end Amber Grant.
Congratulations to Barbara Hanna, Founder of Cyant.  Barbara and her talented team have a goal of connecting art and tech to foster learning and creativity.
So… how are they attacking that goal?  Let's get the lowdown from Barbara.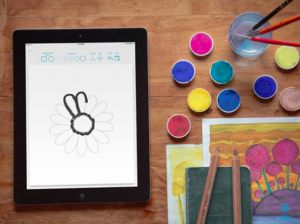 Video Transcript
WN: Share some background on yourself and how Cyant came to life.

BH: I bring a technical background, with a PhD in Computer Vision. I have had the opportunity to work on a number of technology and application areas, and in recent years my attention has turned to 3D printing and related technologies.
This is a very disruptive field, one that uniquely bridges the gap between digital and physical. It also brings together all types of people, backgrounds and disciplines, from art to engineering. It is always inspiring and exciting to read the latest advances in the field, which is already giving rise to tremendous innovation. It's also a fast growing industry, which is poised to reach ~$20bn by 2020, with potentially significant impact in industries from fashion to medical to space exploration, in addition to creating new paths for design, production and sustainability!
So, this area is bringing great opportunities — and for the next generation of creators and builders in particular. Nonetheless, it is also raising a few challenges and needs to address. For example, making 3D modeling and 3D printing accessible and intuitive, which are two of the problems that are a focus at Cyant.
With a mission to foster learning, creativity and engagement through the connection of art and technology, our goal is to develop software products and services that can empower a diverse community of  young "cyantists" to learn and create new things in new ways. Our first product, Cyant's Lab™, is an app that lets kids of all ages easily create 3D models.

WN: Explain what functionality the current app provides. 
BH: Our iPad app enables kids to create 3D models by doing something known to humans since prehistoric times: drawing! The app automatically turns those drawings and writings into 3D models. Models can be free drawn, but the app also offers a selection of templates as guides.
To make it particularly accessible to younger kids, the base version of the app has an intuitive, simple interface, with the possibility to add more tools and features in the future. Since not everyone has a 3D printer, 3D Prints of the models can be ordered and delivered via a partner 3D printing service. The app also provides articles to learn more about 3D printing, as well as pioneers in the field who can be inspirational models for young cyantists. So Cyant's Lab™ can be used to very easily create and 3D print designs, from ornaments to components of more involved arts or crafts projects or educational activities.
WN: How long does it take the product to reach the customer once a design is submitted?
BH: For the first version of Cyant's Lab™, the assumption is that not everyone has a 3D printer. We have been working with a partner 3D printing service (Sculpteo) which can achieve a rapid turn around. They can fulfill the order and deliver it within a week if there is a need for fast handling and shipping. This service offers a range of materials (including metal) and 3D printing technologies. So in general, the exact handling timeframe may depend on the order, but the prints are high quality, professional grade right off the bat.
This being said, for those who have a 3D printer, we plan to offer the ability to have access to the 3D model files. And depending on the model and print settings, the printing time can be fairly rapid. That's critical in a setting like a classroom.
WN: Talk about the educational workshops you offer. Beyond those events, is there potential for partnering with schools?
BH: By nature, there is a significant focus on STEAM learning at Cyant and throughout the educational workshops we organize. We work to create art-meets-tech experiences that are project driven, and allow for individual creativity to be stimulated, while maintaining a level of collaboration. And while learning about 3D printing is weaved into the workshop, true to our mission, other areas maintain an important place too. It's always wonderful and fun to see what kids (including the big ones known as grown ups) learn and create!
We have had the opportunity to explore educational activities in school settings and have received great feedback. So yes, there is definitely potential for partnering with schools!

WN: What advice would you give to an aspiring female entrepreneur?
BH: First, don't hesitate to try. Try not to let self-doubt get in the way. Entrepreneurship is a journey with ups and downs. There may be 10 no's before there is one yes, and there may be unexpected, time consuming roadblocks.
So it is important to persevere and draw lessons for the next steps. And try and find networks, friends, mentors who can provide input, feedback and guidance. Along the way, make sure to keep sight of the internal passion, or idea or mission that made it all start in the beginning! Oh, and, it may be hard, but remember to switch off from time to time, too.
Thanks to Barbara for her time, and congratulations once again on earning the April Amber Grant.  With May in full swing, we're already considering candidates for the May Amber Grant. If you're a woman-business owner, please consider applying today or sharing our grant with someone in need.