We're thrilled to announce the $10,000 August Amber Grant recipient. Congratulations to Tasha Mayberry, Owner of Lovedudz. Tasha is the ninth qualifier for the $25,000 year-end Amber Grant.
Lovedudz is a pre-launch business that makes rompers for kids. However, its impact stretches far beyond clothing. Continue on to read about Tasha's vision for giving back — plus much more.
Note: Applications are currently being accepted for the September Amber Grant. You can apply today.
Video Transcript
WN: Describe Lovedudz and the purpose it serves.
TM: I have a dream to live in a world full of kindness and love. I believe the key to achieving this is through our tiniest citizens – kids!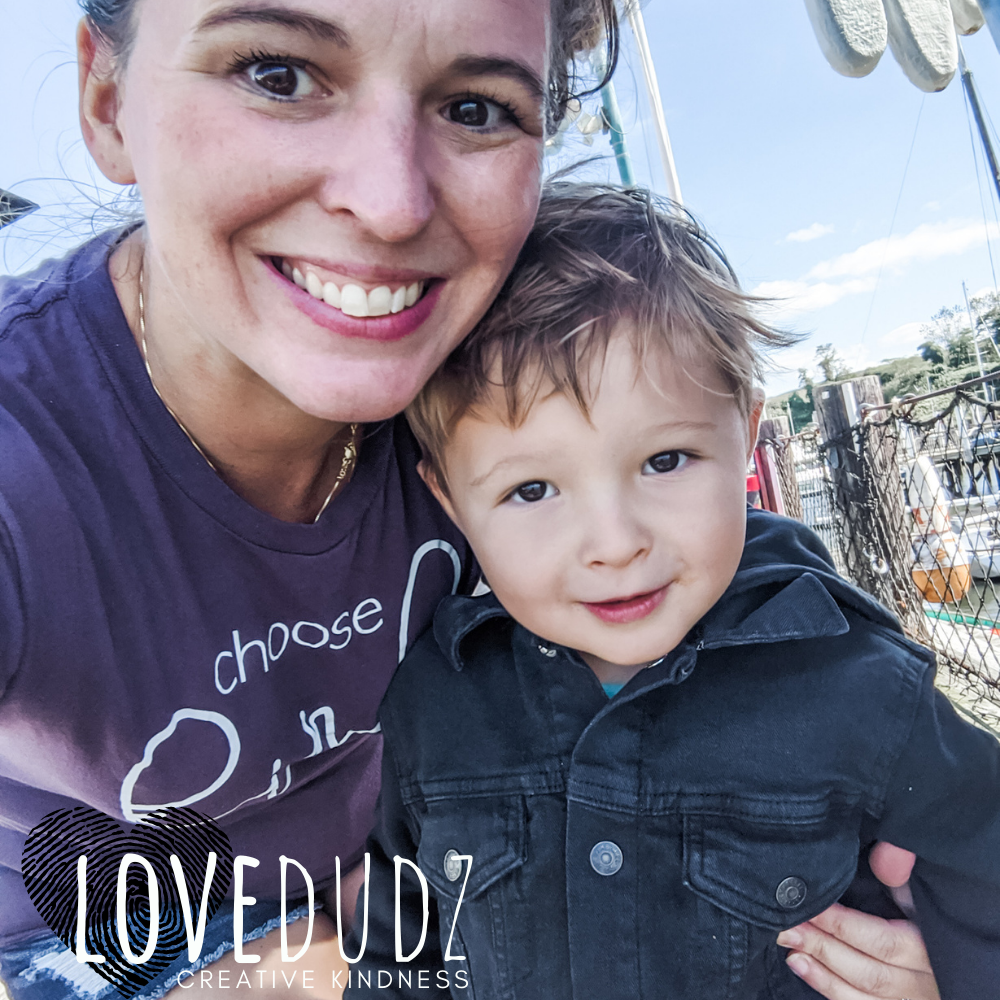 Here at Lovedudz we inspire kids to dream big, be kind, love, and give back. I started the business with my 4-year-old son so he can learn first-hand entrepreneurism; but mostly the value of being kind and helping others.
Lovedudz has an extremely unique business model that will give back in multiple ways, creating a ripple effect of good in this world.
Key Points:
Lovedudz are slouchy rompers for kids age 12 months to 4T.
Every romper has a one-of-a-kind, unique design inspired by a child's artwork.
$5 from every romper sold is donated to a charity. Each romper style will have a different charity.
We are launching Lovedudz with two designs – a rocketship from my son's artwork when he was two years old and a unicorn design in honor of a beautiful angel child named Teeja who passed away at 6 years old from neuroblastoma. Teeja always was drawing rainbows, the sun, and her smiling while in the hospital and loved unicorns. ($5 from the Teeja Rompers will be donated to a cancer charity that helps families going through treatment with kids.)
To understand my dream fully, you have to understand my story.
I was raised by an amazing single-mom who worked three jobs just to make ends meet, but it wasn't easy. Growing up we lived in an apartment while on welfare, in a tiny camper on the back lawn of my mom's best friend's house, in a trailer, and above a garage in a two-room space.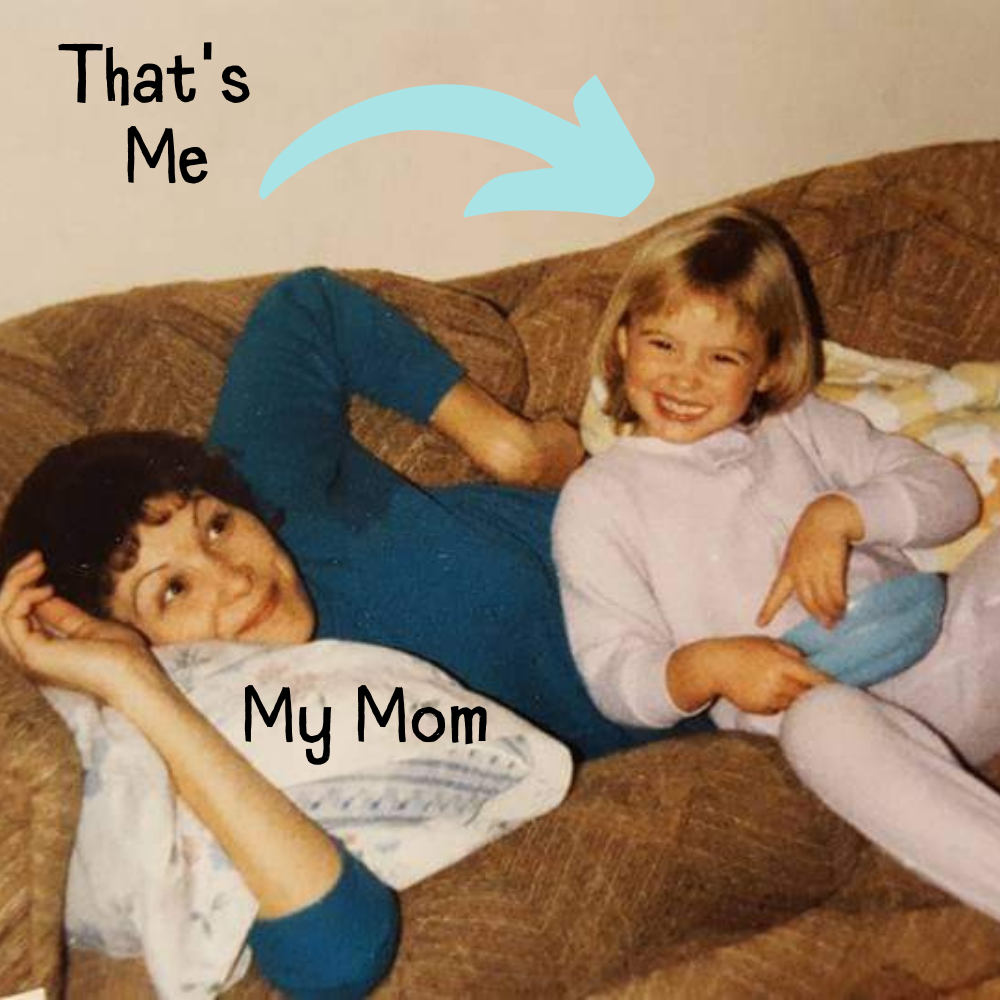 My mom worked hard. I did well in school and always dreamed big ever since I was a little girl. By the time I was 16 my mom had married and built a beautiful house.
However, not having a father though took a toll on me and I fell into the wrong crowd. After years of addiction in my late teens, I hit rock bottom. A toxic relationship, lost both of my jobs, lost my apartment – it was time. I had lost that fire inside me – the little girl with big dreams. Then I found her again. I went to rehab and not only turned my life around, I enhanced my life 100 fold.
I'm living proof that dreams do come true no matter your circumstance. I've also learned that my past doesn't define me and I don't have to hide it. It made me who I am today – determined and resilient to do well and help others.
WN: What will differentiate your product from competitors'?
TM: Lovedudz not only has a unique and strong business model, but the product is in very high demand.
The whole idea for making slouchy rompers for kids came from not being able to find the type of quality romper for my son I was looking for (super trendy, harem-style, NOT the typical cutesy baby design). They say necessity is the mother of invention.
I experience two problems with slouchy rompers:
First, one company sold them for $45+ (and add shipping on top of that). When I received it in the mail it was not high quality – cheap material and ended up being too small.
Second, there are amazing Etsy stores that hand-make rompers but again it costs $45+ and took three weeks to arrive. I loved the romper but the note said hand wash only. A bit inconvenient for a busy mom.
There are FIVE main differentiators that will make Lovedudz rompers unique:
#1 Unique One-of-a-Kind Designs Inspired by Kids' Artwork
Lovedudz are trendy rompers that are "harem-style," which means slouchy in between the legs — super adorable. Sizes from age 12 months to 4T, the boy romper designs have hoods and the girl romper designs come with trendy wrap headbands instead of a hood.
Every romper has a one-of-a-kind, unique design inspired by a child's artwork. When my son kept bringing home really trendy looking artwork, it clicked. I can use his art to design the rompers. Then I thought why not bring in other kids' artwork to expand the collection and have the kids choose their own charity to give back to from their romper design? The names of the kids are the names of our rompers!
The creative process in designing each romper takes many hours and is very fun.
#2 Quality Made and Machine Washable
Our rompers have plenty of room to grow into. I used to work with a baby brand in Canada and learned about their sizing compared to sizing in the USA. I absolutely loved how they had just enough wiggle room for kids to grow into so they could wear it longer. We will do the same for our rompers. It's not a huge, baggy difference but just a perfect amount of extra wiggle room.
We are testing different fabrics from bamboo to jersey cotton and even cotton/spandex blend – plus others. The fabric we choose will wash well, wear well, and be long-lasting.
Definitely will be machine washable so busy moms like me can throw it in the washing machine without worry.
#3 Affordable Price Point & Fast Shipping
So the harem rompers I found for my son were $45 to $50+ – for ONE romper! Plus add shipping on top of this. It was a "splurge buy" rather than a practical "buy each season" type of purchase. This is too pricey for parents.
It is very important that the price of Lovedudz rompers are $25 – $30 (perhaps even lower after we test some samples from our Bali factory). Keep in mind, every time a romper is purchased, $5 is donated to charity so a lower price point means more families buying more rompers = more people we can help with donations.
The Etsy harem rompers for kids are great but they are handmade as mentioned before with three weeks to eagerly await your package. Lovedudz orders will be shipped within 24 hours and delivered within a couple days inside the United States. We will even offer FREE SHIPPING when two or more rompers are purchased giving more incentive for customers.
#4 Two Very Special + Unique Give Back Initiatives
$5 from each romper sold is donated to a charity. Each romper will have a designated charity.
For example, for all the rompers we release using my son's artwork as inspiration for the design, $5 will be donated to the Kind Kash Fund where we give families $250 to make ends meet. Whether it be to pay rent, buy food, throw their kid a birthday party, enroll their child in ballet, or anything else that will help them get by, the Kind Kash Fund is here to help.
We will also give 20% of profits to kids' if we choose their artwork to design a romper. Parents can submit their kids' artwork on our website and each quarter we will choose a piece of art to inspire our next romper design. The child will get to choose the charity that we give $5 per romper too as well (for their romper design only). I wanted to take it a step further and truly change their lives, so 20% of all profits from all rompers sold of their design will be paid to the child (their family) until the child turns 18 years old.
#5 Not Just a Product but a Community
Lovedudz is more than just a product to buy. It's a community where we inspire and empower kids to dream big, be kind, and be creative.
WN: What are some key upcoming milestones for Lovedudz?
TM: The $10k Grant will move Lovedudz from a concept to a business. Here's our current timeline:
September 2020
Design first two flagship romper designs the "Vasya" Romper and the "Teeja" Romper.
Buy samples of each design from two factories.
Begin the website design (LOGO complete).
File a trademark on the company name.
File an LLC for Lovedudz.
Open business bank account.
October 2020
Receive samples.
Photoshoot with kid models (the photos will be used for the website and online shop).
Complete the website.
Create all social media accounts with branding.
Invite celebrities and influencers to create a custom designed romper from their kids' artwork and choose a charity to give back to.
Create a video with new photography of the actual product.
Create the pre-order launch plan.
Soft launch.
November 2020
Start Pre-Order Sale.
Place a very small order of rompers to have inventory to sell. To get good pricing a large quantity must be ordered so whatever money is left over from the $10k grant (after website hosting, samples, & photoshoot expenses), all will need to go towards my first romper order. I won't be able to buy many but I can buy some and I am grateful.
The huge benefit is that I design websites, write copy, handle all branding, social media and more. So something that would cost $5k – $10k out of the gate for someone else, I save on this expense by doing it myself – and doing it very well.
Start designing celebrity rompers based on their kids' artwork.
December 2020
Start shipping pre-orders based on the first order made in November.
Continue getting pre-orders and place another romper order to fulfill inventory.
Announce the money donated to date to each charity and send a check to each charity.
January 2021
Release 1-2 new romper designs plus any celebrity designs.
Choose our first child artwork.
WN: How are you planning to market the Lovedudz brand?
TM: I have a very unique advantage because I've worked with hundreds of baby and kids brands helping many go from start-up to multi-millions in sales. I know exactly what type of marketing works well so here's my marketing plan:
High End Video
A high-end video that shares the Lovedudz story and my backstory. There are so many moving pieces so a video would be best.
Social Media Ads
I am a master ad copywriter and graphic designer. I would test multiple ads on Facebook and Instagram with different actions from liking and comments, tagging a friend in the comments, entering a giveaway, following our page, entering name and email to grow our marketing list, and of course to pre-order.
Mommy Bloggers (Viral Giveaway + Commission)
I have a list of 2k mommy bloggers that I've worked with for a decade. I am SO EXCITED to share Lovedudz with them when the time is right. Since I have a relationship with them, I would create a very special program where I would send them a free romper in exchange for them posting a review on their website about Lovedudz and ask them to add our rompers to their holiday gift guides.
I would create a WOW Offer giveaway as I call it (for example win $500 cash and a Lovedudz romper) – to enter they must follow Lovedudz on social media and give name and email. Plus, we use a viral giveaway software where they are motivated to get two friends to enter the giveaway for a bigger chance to win so it grows like a web through word-of-mouth (best way to market). I would give the entry form embed code to all the bloggers who review my romper and they would post on their blog and share on social media for their followers to enter the giveaway. This means that I capture thousands of names and emails from all these bloggers' audiences to grow the Lovedudz marketing list – not to mention grow our Instagram following quickly.
Lastly, I would assign each blogger a unique code and give them a kickback commission on all pre-orders made using their code so there is great incentive for the bloggers to share and promote.
Big Influencers and Celebrities
These are people who have 500k+ followers up to millions of followers. I have a celebrity on board already to create a romper design and help promote. Her posts get 50k likes on Instagram!
This is a unique part of the marketing strategy. Celebrities and Influencers are in a special position to bring huge brand awareness on what Lovedudz is doing to spread love and kindness in the world. Through their influence, thousands of orders will be placed and this means thousands of dollars raised for the charity of their choice.
The celebs will submit artwork from their kids to inspire an exclusive romper design. Everyone loves celebrites' kids! Now they can have a teachable moment with their children on spreading love and kindness. The celebrities and influencers help promote to get pre-orders and $5 from each sale goes to a charity of their choice. We also split the profits for their romper style 50/50.
Press
I've been a publicist for 15 years and have relationships with hundreds of parenting press. I would pitch them Lovedudz and get us featured as much as possible not just as a product but as a company who is changing lives. I would love to focus on the stories of how the money raised at Lovedudz for various charities make an impact – and the press can help share these stories.
Big Launch Party (Virtual)
I would create a big giveaway where 25+ other brands donate a prize to the winner and share the giveaway on social media and with their email list.
The entry page lives on the lovedudz.com website which means all the traffic would go to our website to generate exposure. We use our viral software to capture name and email and give entrants a bigger chance to win if they refer friends to enter and share about Lovedudz on social media. A requirement to enter would be to follow us on Instagram so that grows quickly.
Email Marketing
I would start building a community by offering valuable and fun content each month as soon as we go live.
Social Media
I would focus on Facebook and Instagram and post photos of kids wearing our rompers and also highlight stories of giving back and the real impact Lovedudz makes.
WN: Share some advice you'd give an aspiring female entrepreneur.
TM: There's a book that changed my life that I ALWAYS recommend. It's called, The Secret by Rhonda Byrne. This book teaches the concept of Law of Attraction – what we think about, we bring about in the simplest terms. I even wrote a book about it because my experience with manifesting everything I want in life has changed me to my core. I have always been a good person, but The Secret awakened a part of me that erased all doubt and worry from my life.
To succeed as an entrepreneur building a foundation from the concepts taught in this book will catapult you so far ahead it seems almost like magic – but really it's just science. Quantum Physics – it's all about positive thoughts and energy. And this is not kooky, off the wall stuff. It's very real and very awesome. If you can learn and master the following, you can achieve your biggest dreams and quickly while living your best life and discovering the best version of you:
#1 Identify Limiting Beliefs
Our limiting beliefs start from when we are kids and sometimes become so deep rooted that as we get older we forget they are still inside.
These internal beliefs are roadblocks that stopped my dream life from coming true. It's like attaching a brick to your dreams and throwing them in the deepest ocean never to be realized.
But once we identify that tiny voice inside that limits us, you can rephrase these statements to new positive beliefs which transform your thoughts initially and then eventually become your new beliefs.
#2 Positive Thinking
What we think dictates how we feel and how we feel creates our personal energy. If our energy is a high frequency and positive, things we want manifest very quickly. If our energy is negative and low, it's much harder for the universe to hear what we want and make it happen.
It's easy to think negatively and not realize it. For example – "Ugh, Monday again. I am already looking forward to Friday." This sets the tone for your day and for your week. Instead say, "A new fresh week to do amazing things!"
#3 Gratitude
Gratitude is more than being thankful. It's a deep appreciate for everything in your life big and small. Everyone can have something to be grateful for.
Showing gratitude for what we have attracts more things to our life to be grateful for. If we focus on what we don't have (the scarcity mindset) we will always lack those things. If we focus on what we do have and are grateful (the abundance mindset), we are not only happier and appreciate things, we attract more and more to our life to be happy about.
Start each day by going through your gratitude list and end each day by writing five things down you are grateful before you close your eyes to sleep.
Don't forget grateful intentions! These are POWERFUL. A grateful intention is something you are grateful for that have not happened yet but you feel the emotions and visualize as if it has already happened.
#4 Visualize
The quickest way to achieve any goal is to envision what you want with great detail and feel as if it already is true. A big part is also believing it to be true and without a doubt it will become your reality.
I create vision boards and it's like shopping. I print images from Google of everything I want to accomplish in the current year. Then I thumb through magazines and cut out words and images that inspire me. Next I take a big white poster board and I assemble all my pieces on the board. After I like the look of it, I glue everything down.
Hang your vision board where you can see it daily and spend a few minutes each day looking at everything on your board. Close your eyes and envision yourself with great detail doing what you see on the board.
#5 Take Action
This is the most important step. You can do everything I talked about (steps 1-4) but if you don't take action, then it doesn't work. There's always a next step that you can take to push your dream forward. Want to buy a house? Start looking on Zillow every day, meet with a mortgage company to exactly what's needed, and start looking at houses with a broker. Don't let limiting beliefs get in the way and go for it!
WN: If you have anything else to share, please do!
TM: We don't have the product samples just yet but will very soon now that we won the Amber Grant. So in the meantime I would love to share the design process and describe what the first two rompers will look like (one boy style and one girl style).
Style #1 – Rocketship (The Vasya Romper)
$5 donated to The Kind Kash Fund to give families $250 when they need it.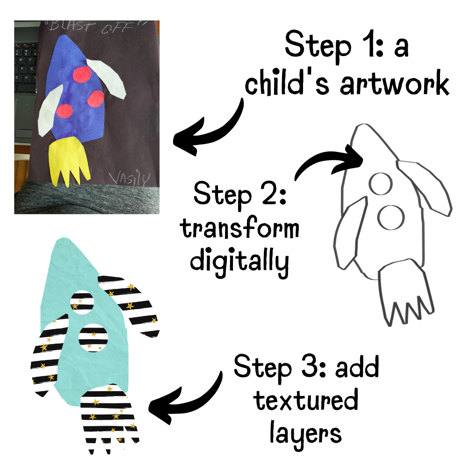 The design will look like this:
So this will be a boy's design with long sleeves and a hood. A slouchy romper.
On the inside of the hood there will be black stripes – maybe grey.
The rocket will either be a bunch all over as an uneven tiled print OR large on the front.
The romper will be light, heathered grey.
We will have cuffs at the ankles that will be a contrast color or stripes just like the inside of the hood.
We will have one back pocket where the Lovedudz logo may be (still deciding) and possible stripes like the inside of the hood. So in three spots on the romper there is a pop of another design.
So all these little design details will create very appealing rompers.
Style #2 – Unicorn (The Teeja Romper)
$5 donated to a cancer charity that helps families going through treatment with kids.
Made in honor of Teeja who passed away at the age of 6 from neuroblastoma. 20% of profit will be given to Teeja's family – she has three other siblings.