After revealing January's Qualification Grant Finalists last week, we're excited to announce our qualification grant winner. Congrats Diane Beam, writer and film director of Imaginary Universe!
Read on to learn all about Diane and her business.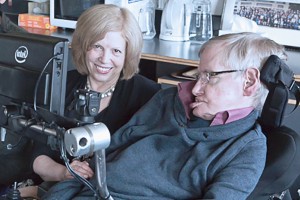 [Above Photographs taken courtesy of Debby Besford.]
Video Transcript
WN: Tell us about your business and how you got started.
DB:I started my business on a very small level and each year continue look for new ways to improve and expand, through networking with industry professionals. Getting my bachelor degree in physics and MFA in film and media art have been key to my business knowledge, experience and connections.
At a very early age, like many people, I was fascinated with many things in nature like rainbows, clouds, and sunsets. My sisters and I, when we were young children in California, would sometimes sleep out on summer nights in our backyard, telling stories as the stars pass across the sky. Watching the stars made me wonder: What are they? What's beyond the stars? Those questions resonated with me on a deep level.
We had non-fiction children's books in our house on topics of stars and the universe. We also had some fiction children's books based topics in astronomy, physics and math, such as "A Wrinkle in Time" By Madeleine L'Engle. Reading these books and other like them, had an early influence on my interests and future work. As children, we also enjoyed sometimes staging and acting out small plays for our family.
In high school and Junior college, I took all the science and math courses I could fit in, as well as participating in community theater, even playing the role of Alice in Wonderland. Over time, I was given the chance to write and direct a few small community theater shows and discovered how much I loved directing theater performance.
WN: What made you decide that you wanted to write and direct?
DB: I was excited when I was accepted to BYU as a physics major…physics being a key foundation to a study in Astronomy. I was soon offered a position in the University Planetarium, writing and giving planetarium astronomy and cosmology (the study of the Universe shows). This enhanced my experience as a writer, director, and producer of programs. I came to realize that I might be able to combine my love of astronomy with my love of writing and directing as a career.
WN: Why did you choose to direct/write about Stephen Hawking?
DB: I soon found focused my interest in physics to understanding the ultimate origin and fate of the Universe, alternate time and alternate universes, but at that time, these topics were considered by some to be somewhat outside mainstream study. In one of my physics classes, I learned more about the work of Stephen Hawking, and his work to understand the ultimate fate of the universe. In that moment I felt a strong impulse, to someday write, direct and produce a show on the fate of the universe with Professor Stephen Hawking although I had never met him.
After getting my BA in physics degree, I continued working for other companies writing, directing and producing science shows. Over the years, I was able to travel to other cities and collaborate producing similar type science programs, for planetariums and science centers, in the US, and other countries.
WN: How did you meet Stephen Hawking, and what have your interactions been like with him?
DB: A few years after my graduation, I began writing, directing and producing science theater programs for a planetarium. I was given the opportunity to create any show of my choice. I immediately called Stephen Hawking's office that same day and spoke with his secretary. I was invited to send a proposal. After many months, of followup, Stephen Hawking agreed to meet with me in person. During that meeting, he agreed to co-author, "Stephen Hawking's Fate of the Universe."
WN: What advice would you give to other female entrepreneurs?
DB: Pursue your passion. Believe in yourself and your dream. Find people who share similar dreams. Take the action needed to move your project forward.
Ingrid Vanderveldt, the founder of "Empowering a Billion Women by 2020", said that the number one challenge to women starting a business, is "lack of confidence"1 and "the antidote to a lack of confidence is simply action." She also speaks of the importance of mentors. This article reminds me that whenever I have struggled to move forward, the best thing to do is to take action.
Womensnet provides great resources that help women move their business and projects forward and also help women entrepreneurs, network with potential mentors and partners.
It's an honor, and I am grateful for this opportunity to be selected for the Womensnet, Qualification Grant.
Learn more about Diane in her video here:
And if you'd like to vote for Diane to win the $1,000 Amber Grant, you can vote for her here.
Thanks for reading! Remember that we award a grant every month – if interested, please apply today.