As a new week begins, we're thrilled share with everyone the winner of the June Amber Grant: Good Morning Bedlam.
This midwest folk band blends immense energy and musical talent to create something truly special. Visit their YouTube page or play the video above to get a taste.
While you listen, learn the story of members Isaak Gill Elker, Victoria Elker and Sophia Mae — plus much more — in the interview below.
(A special thanks to Sophia for taking the time to answer our questions while touring!)

Video Transcript
WN: Share the story of how Good Morning Bedlam began.
SM: Isaak and I grew up in a theater company together and spent all our pre-adolescent energy on connecting with our communities through stories– old, new and made up. We watched faces light up, and gave it everything even when there was only one person in the crowd. I absolutely loved it. Our main repertoire were Shakespeare shows that we would perform outside, riding on homemade caravans with fold out stages. The costumed, mostly barefooted company would push the caravans down mainstreet and Isaak and I, along with the other musicians, would perch precariously on the top playing our tunes to announce our arrival. There I developed a deep love for Shakespeare and language. I found that I was capable of accomplishing anything with a bit of learning, failing and determination. I learned how simple it is to connect deeply with anyone just by filling a need for honestly told stories. And when the time came for us to continue with our adult lives, grow up and get a job, it was only natural that we took the route we did — we became musicians.
Starting with that theater troupe, Isaak and I have been writing music and playing together since we were 13 and 11. We went on our first brief semi-national tour at ages 17 and 19. Obviously our parents were thrilled, and not nervous in the least…
But we survived, and the band began to grow. We were recommended to and picked up by a B-Corp record label in Minneapolis, Last Triumph, who we are still with today. But the group was not complete until Tori Elker (formally Tori Smith) entered the picture.
About 10 days before our 1st full length tour, Isaak and Tori were married. When faced with the decision to stay home for the honeymoon, work a nine to five job, care for the house, (also get a house), while her husband toured across the country for two months Tori said, "Hell no. We can be technically homeless for a little while," and she packed up and came with us.
She didn't play an instrument. But that wasn't going to stop a woman with immeasurable determination to help people and an incredible ability to improvise her way through just about any situation. She started by running the merch table, dealing with the obnoxious drunken men and charming people into spending more than they planned to.
After that summer, our bass player left. Tori had decided she was going to continue touring so she said "Yeah. I can learn bass in two months."
The crazy thing is, she did, all while finishing her theater degree. She's now the owner of our LLC, manages the accounts, heads our marketing and branding and belts it out every night on stage with us and with her bass, Mr. Jones, thus becoming the head of our predominately female band in a male dominated industry. She kicks butt at it, all because she refused to stay home.
WN: Listening to your music, watching performances and reading reviews, one component that's abundantly clear is your collective energy. Does that come from a genuine love for performance?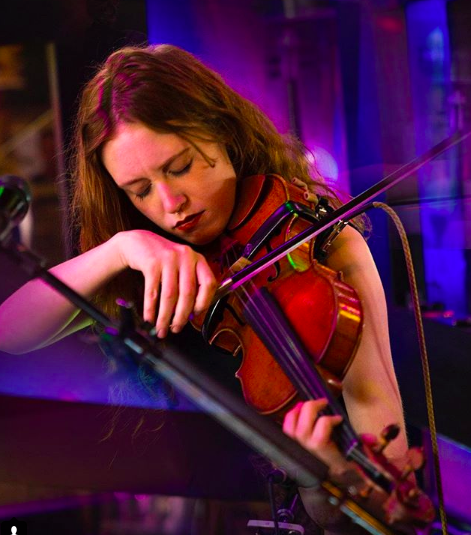 SM: Oh absolutely it does! It also comes from a genuine love for each other, our audiences, and the stories we are telling. We need a lot of sources for energy since we use so much of it, and we want each of our performances to be unique and earnest.
And when we perform together, something invigorating happens. We sync up. There is an unspoken connection that forms immediately between us. This has required hours of practice and hard work, but the unification goes beyond playing technically well. It's its own breed, living and breathing, giving our music distinctive life each time it is played. It is exhilarating and it is exhausting. But we love the stories we are telling, and want them to come to life for us and our audience. They're something outside of ourselves, something we can help foster, and that we can nourish. So, when we are too tired to love the performing alone, there is something outside of us to take care of that.
WN: What's the process like for getting in touch with and eventually playing at venues?
SM: Repetitive, tedious, frustrating, discouraging, and necessary! You need to be ready for rejection, or no response at all, and let that propel you forward rather than drag you down. The more venues you are rejected by the closer you are to booking one.
Luckily we have a booking agent now who does a lot of this, and he has connections and knowledge about venues that are looking for our type of music. My bandmate Isaak is now hired by our record label and books bands himself as well. Often we route out where we want to go, and find multiple venues on that route for each stop. If you strike out, you reroute. And we are continually working on new ways to find the most successful shows possible with our record label. It's a constant learning process.
Playing at so many different venues across the country is a mixed bag to say the least. We've played anywhere, from classy listening rooms with wine and coffee on tap, to tiny bars with mannequins and stuffed squirrels on the wall, to dark vintage rooms in Montreal with free poutine and broken conversations in French. We have days and days worth of stories and wish we could tell you more.
WN: Tell us about your first professionally recorded album, Like Kings, and what went into the recording process.
SM: We are so excited for our new album, Like Kings.
Our music is boisterous, precise and wild — and we've had the opportunity to expand our sound with this album. We collaborated with local Minneapolis musicians to add trumpet, trombone, and cello. Due to our short attention spans, we pull from a lot of different genres including gospel, klezmer, jazz, blues and pop, but we still have unity with our central three part harmonies and sound rooted in folk and story telling.
Our previous album, Prodigal, explored the process of being lost, and returning to a place where you feel at home. This one picks up where that left off saying, "Now what? I went on this journey, but Im still struggling. What's that about?" These were written from a personal standpoint but we recognize this struggle as something very universal to people. Struggles continue — there are triumphs and joys but we continue to live after those. There is always something new to face, but similarly there is always room for growth and yet unexplored questions to be answered. This is tiring, but it is also beautifully human.
The recording process is repetitive, and at times discouraging. When you come to the studio with parts you've worked out and have been fine tuning from show to show it's easy to feel very sensitive when those parts are put under the microscope of being recorded individually. But you learn quickly to be less attached to ideas, and more focussed on how those ideas truly play out. It's a fine balance between precision and reputation, and knowing when to be satisfied. It's very easy to become tunnel visioned when recording. But once the tracks are finished, and the mixing process begins there is nothing quite as exciting. Working with a professional sound engineer has given us freedom to explore nuances in our sound that we've mostly imagined up till now. We're so grateful to have had the opportunities we've had with this album.
WN: What are some of the venues you've enjoyed playing at the most, and do you have a "dream venue"?
SM: About a few months ago we played at First Avenue, the premiere venue in our home city (Minneapolis, MN), Prince's home venue, and a Minnesotans musician's dream.
When we played there, we were the opener for the opener's opener and were playing so early in the evening that we weren't sure if anyone would be there. We went out onto the stage, shaking a bit behind a large projection screen that hid the crowd, or lack there of, but when the screen lifted the room was packed with around 500 people pressed near the stage, faces turned towards us, not towards the bar for once (extraordinarily enough). It was such an exhilarating show and an honor to play there.
My other personal favorite "venue" is the home of Isaak's brother in law in Philly. We stay there some tours and whenever we do, the family sets twinkle lights on their porch in their shared garden that spreads over to their neighbor's far rose bushes. They call over their friends, neighbors, a few friendly strangers and we play a barefooted show for a quiet group of people in the soft grass and holy leaves. And we sing and talk while the mosquitoes eat at our legs. And the sun goes down on the primroses and the little fountain halfway between their house and the neighbor's.
Our two dream venues would be Red Rocks Amphitheater and NPR tiny desk concerts. RedRocks is an amphitheater with miraculously perfect acoustics in Red Rocks Park where the Great Plains meet the Rocky Mountains. This is a dream venue for many folk musicians, and if we play there someday, we'd be following such inspirations as Punch Brothers, Avett Brothers, Joseph, and more.
Tiny desk concerts are also full of our inspiration with an intimate setting that celebrates the tradition of connecting through live music.
WN: What advice would you give someone aspiring to break onto the music scene? 
SM: Be hopeful, but by all means don't expect a Big Break. The most productive way to think of growing your band is little by little, year by year, and placing the power where it belongs — in your own hands. If you want to be a musician, really want it, be prepared for frustration, uncomfortable living spaces, endless amounts of gas station coffee (if you can afford it) and a good deal of disrespect. But most importantly, love what you do, and do it for the love of it. If you get swept up in the pursuit of success you'll be miserable, as that takes time and a considerable amount of failure.
Two things I've learned about growth in pursuing this career…
First, it is not linear — you don't start to grow and continue on an level uphill trajectory. There are ups and downs, valleys and peaks. That is natural, and if you despair because you are in a valley, you won't realize the valley you're in is leading to a peak that's just a little higher and wider than the last one.
Second, you can't always see growth when you are so close to it. Just as a little child will lament over how they never get any taller, only to find the next time they're measured they've shot up a whole two and a half inches. You can't always see yourself growing but you are, and it will become apparent with a little space. So take a breath, work harder and harder every day, be disciplined, plan meticulously and don't worry. Because contrary to the belief of that little voice in your head screaming at you that it's all you can do, it won't help. It will only distract you.