A little bit ago we announced our January finalists and now we're happy to finally introduce you to our January Qualification Grant winner, Sarah Olson, Founder of Levity Products.
Read our interview with Sarah to learn more about how Levity Products is making the lives of teachers, students, and agencies much easier.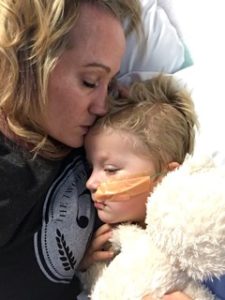 Video Transcript
WN: Do you mind sharing the story behind Levity Products and your LECS(Levi External Catheter Stabilizer) Solution?
MS: My son Levi who is 4 years old now was born with Spina Bifida. It was unexpected and not something we were at all prepared for. We didn't know what it would mean for the rest of his life. Over the last 4 years, Levi has had 15 surgeries. 9 of which were just in the year 2016! It was a very trying, difficult year. I watched my little boy suffer from so much pain while he lost so much weight. It seemed like the life was being sucked out of him. As a mother, I felt so helpless and broken. One of the biggest reasons he suffered so much was because the type of device he needed didn't exist. The device that DID exist caused him an excruciating amount of pain in the form of bladder spasms. For those that don't know what bladder spasms are or feel like, the kind Levi was getting were equated to the type and intensity of pain that a woman in labor experiences. It was horrifying to watch him go through this, all because of a device that had to be used as he healed from surgeries. After 6 surgeries, I couldn't take it anymore. Levi was a walking zombie. He was in so much pain. It felt inhumane. I remember sitting in the doctors office talking to Levi's urologist and I begged him for another solution because a 7th surgery had to happen. I couldn't bare putting him through the that intense pain again. His urologist looked at me with tears in his eyes and said, "Sarah, there is nothing else." And in a joking way as he left the room he said, "Sarah, if we need something different, you have to invent it." So momma did. I had to. I had to think of something to save my child. Any momma would have done it. I'm convinced there is no more powerful force on the planet than a momma protecting her babies. I did what it took and I invented a device. I spent hours getting dimensions of my idea on paper and learned all about CAD designs on YouTube. I had a prototype of my device 3D printed and I took it to Levi's urologist to see what he thought. When he saw it, he looked at me in disbelief because it worked. He told me to get a patent immediately so we could use the device for Levi for his next surgery which happened to be 35 days away from what I showed him. I found a patent developer and we worked day and night to finish a patent. We filed for the patent 2 days prior to the surgery and were able to use the device. What took Levi 2 1/2 weeks to heal from in January, took Levi one observation night in the hospital with my device.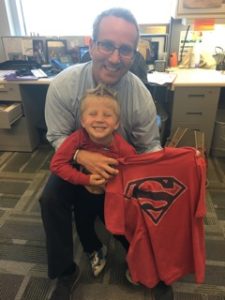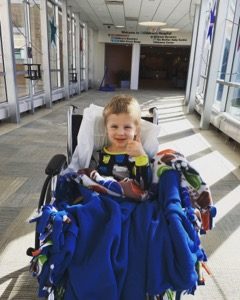 WN: For our readers who have never come face-to-face with Spina Bifida. Can you tell us what it is and how it affects children?
MS: Spina bifida is a birth defect that happens when a baby's backbone (spine) does not form normally. As a result, the spinal cord and the nerves that branch out of it may be damaged. The term spina bifida comes from Latin and literally means "split" or "open" spine. This defect happens at the end of the first month of pregnancy, when a baby's spine and spinal cord (a bundle of nerves that runs down the center of the spine) are developing. Depending on the severity of the defect and where it is on the spine, symptoms vary from child to child. Mild defects may cause few or no problems, while more moderate to severe defects can cause serious problems, including weakness and sensation issues, bladder and/or bowel control issues, paralysis, or hydrocephalus. It's a defect that causes enough pain on it's own. To have to deal with pain from devices that are suppose to help them doesn't seem fair.
WN: What sets your External Catheter Stabilizer apart from others?
MS: As of now, there is only one other predicate to my device. The device that exists, in our experience, has caused infection and bladder spasms beyond what Levi already experienced on his own because of his defect. The goal and purpose of my LECS is to eliminate those issues and help aid the recovery process in a children that need multiple surgeries.
WN: What's the next step for Levity Products?
MS: I'm so excited about what's to come! On February 20th, clinical trials begin at one of the largest research hospitals in the world. We are determined to make the device safe and effective for children all over the world. The purpose of my device was intended for a urology solution, but after seeing my invention, the head of Oncology was brought into conversations for clinical trials. There might be ways my invention could also make life easier for children who suffer from cancer. My entire mission and purpose of inventing my device was to help my son. Now my goal is completely different. I have a massive passion to help as many kids all over the world that suffer unnecessarily. The need for my device is even more so in 3rd world countries or emerging countries. They don't have access to doctors and medical devices like we do. My device does not need to be placed by a doctor, so children who suffer from Spina Bifida in those countries will have something that will bring them relief where they might not otherwise have relief. That brings me so much joy!
WN: How is Levi doing?!
MS: Levi is doing great! 🙂 He will have more surgeries and will always live with challenges that most children don't, but we believe that attitude is everything. We focus on being champions and showing the world the difference between facing adversity with humility and strength instead of letting it defeat us. Levi is the most inspirational human I know. What an honor it is to be his momma. He is a fighter and brings so much joy wherever he goes. The child has the most contagious smile and laugh. 🙂 I'm praying that Levi's generation of children with Spina Bifida will be the last that suffer in the way he has.
If you'd like to vote for Sarah to win the $1,000 Amber Grant, you can vote for her here.
And thanks for reading! Remember that we award a grant every month – if interested, please apply today.