About 2 weeks ago we announced our July finalists and now we're excited to declare Sophie Ennadi, CEO and Co-Founder of NAJMTEK is our July Qualification Grant winner!
Read on to learn more about NAJMTEK and how this tech company is improving the lives of those with dyslexia.
Video Transcript
WN: For those who haven't heard of NAJMTEK, could you tell us a little bit about your business and how you got started?
SE: At Najmtek, we are currently working on an awesome adaptive and innovative learning tool for people with dyslexia – adults and kids – to help them learn, read, work and communicate with others without having dyslexia in the way. The name of the device is called the Ubook. This is a dual screen laptop that features language tools, specific fonts, and apps to assist those with this learning disability. While the Ubook's incredible features go far beyond this, my personal experience having a daughter with dyslexia is what prompted me to pursue this rewarding project.
My youngest daughter was diagnosed with dyslexia when she was in first grade. She was 6 years old! The day the news broke, it was like the sky was falling on my head. Why me? Why my sweet heart?
I had no idea at the time what exactly having dyslexia meant. My other kids were very smart- they were homeschooled during a few years because they were quick learners and had moved beyond their age in school. As of most people, I was stupidly thinking that the word dyslexic means incapable but I later learned that this is in no way true. I had the chance to meet with a wonderful speech therapist that explained to me what dyslexia is and how smart those who have it actually are. The speech therapist has created a methodology that helped save my daughter and other kids too. Believe me or not, but, my sweet-heart was able to read like the average of the class only a few months after meeting this therapist for the first time!
Her journey fascinated and motivated me so much that we decided to take the project we were already working on, a universal laptop with an input touch screen, to help dyslexic kids and adults. We wanted to make people aware that dyslexia is a real and incredible gift, not a blemish. Being dyslexic is like being left-handed – you are different – this is obvious, but if you are taught how to use your right hand, you will become ambidextrous and will look like a genius to others. And this works exactly the same way with dyslexia: if we taught you how to use your brain, you will uncover your abilities. Many dyslexics are famous because that have made tremendous contributions to mankind. Bill Gates, Charles Schwab, Whoopi Goldberg, Steven Spielberg, Einstein, Picasso, Agatha Christie are some of them.
Isn't that an evidence of the wonderful power of dyslexia?
I saw this moment in my life as an opportunity to use the Ubook's capabilities to improve learning for those with dyslexia. I have a strong background in engineering alongside 12 years of experience in product development. Many studies have shown that electronic devices are very helpful for those with dyslexia, so we decided to come up with our own at Najmtek. The Ubook offers a technological solution by providing the first ever neurological "sign alphabet" as well as assistive apps to train/rewire the brain, especially designed for people having dyslexia to help them learn, read, work, and communicate with others without having dyslexia in the way. This feature that we added to the Ubook is the result of 20 years of research and work with dyslexics, and has been tested for its effectiveness.
We believe that the Ubook has potential to bring very positive change to not only users looking for a device that combines many functions into one, but those who have to learn in an adaptive way. The Ubook will be THE solution to help dyslexic kids at school learn, read, and write without having to go out of their way to seek outside accommodations.
For 1 out of 5 kids, traditional school is more harmful than nurturing due to dyslexia and learning disabilities. With our learning tool, they will be able to make mistakes, erase them, and redo anything without the pressure of having to seek individualized attention as well as adapt their learning styles among learners in the classroom without the disability.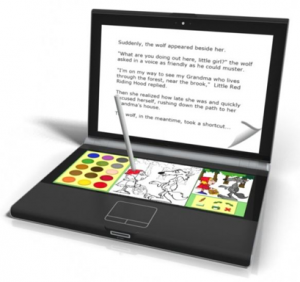 WN: Can you explain how your Ubook laptop works?
SE:Ubook is a multitouch laptop. It works like a conventional laptop. The only difference is there is no more physical keyboard, but a multi-touch input screen called "screenboard", able to display any interface you want to have from a multi-language keyboard, to a graphic tablet, through a medical interface, by a single tap on the screen.
Due to this conception, Ubook is a powerfully dynamic hardware and software tool that delivers a more advanced set of functionalities and experiences than any other laptop in the market.
The one-touch customizable keyboard enables dyslexics to see, read and comprehend in a way that is most effective for them and according to how they perceive symbols, shapes and content, while outputting the same font as everyone else.
WN: Has your daughter used or tested the Ubook?
SE:Of course my daughter already used it, and already tested the apps. She loves the Ubook, she is looking forward to have it at school. And you know, the more she is using it, the more she is thinking about new features she would love to have, and that would be such useful for kids with dyslexia, but also kids in general!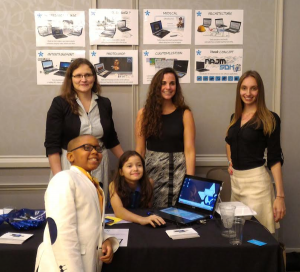 "Happy kids when testing the Ubook"
Saturday August 13th, 2016, Houston TX
WN: Do you plan to sell your Ubook to schools? And are scholarships/laptops available to children in need.
SE: We've planned to sell Ubook directly to people having dyslexia and their family, but also to work with school districts in order to bring Ubook at school, in the framework of "one device per child". Ubook will be thus available during the school year for every child. No more visible difference between kids having dyslexia and the others. They will work on the same laptop, except that they will not use the same font! As stated before, kids with dyslexia will input in a font that is more convenient for them, the "universal" one, and output in a font readable by everyone, while other kids will just use the standard font!
We've also planned to giveaway between 5% and 10% of our production to children in need. Working with school districts will help us identify those kids. So they will have a chance to realize their genius!
If you are working in school district special education, feel free to contact us, and let's see what we can do together to help those kids!
WN: What piece of advice would you give other female entrepreneurs who are just starting out?
SE:BE YOU! Believe in yourself! Follow your dreams! Nothing is impossible in life!
You just have to take the right action, and move forward, one step at a time. The journey may be long and hard, but never give up. This is your passion, this is what drives you, and motivates you every single day! You are wonderful, smart, amazing. You will find the right path to do it and succeed!
Best of Luck Ladies. One day you will be in my shoes, honored and grateful for this opportunity to be selected for the Womens.net Qualification Grant.
Watch the video Below to learn more about Sophie:
To vote for Sophie to win the $1,000 Amber Grant, you can vote for her here.
Thanks for reading! Remember that we award a grant every month – if interested, please apply today.