We're excited to announce the $10,000 October Amber Grant recipient. Congratulations to Lauren Bradley Chapelle, Owner of Sabino Fire, LLC. She is the October qualifier for the 2022 year-end Amber Grant ($25,000).
Recently, WomensNet Advisory Board member Marcia Layton Turner sat down with Lauren for an exclusive interview. You can listen to their conversation and view the transcript below.
Video Transcript
WomensNet: Hi everyone. Welcome to a conversation with our Amber Grant winner for October, 2022. Today, we're speaking with Lauren Bradley Chapelle, and she's the owner of Arizona-based Sabino Fire. 
I'm Marcia Layton Turner, and I'm one of several WomensNet Advisory Board members. So Lauren, thank you so much for your time today. I really appreciate you talking with me about your business, which I'm fascinated by. 
Lauren: Thank you very much. I'm very honored to be here. 
WomensNet: So, let's start at the beginning. Tell us about Sabino Fire. What do you do and how did you get into it? 
Lauren: Sabino Fire is a privately owned wildland firefighting company that provides firefighting services to the federal government. We do this by protecting homes, communities, and natural resources. Because fires are becoming more prominent and more destructive, and they're a year round occurrence. 
So year after year dispatch centers across the country are depleting their entire dispatch list of available resources. Basically they are just too many fires to fight, and not enough firefighters to fight them. So Sabino is available nationally to respond to any incident throughout the country. We are available 365 days a year and 24 hours a day. 

WomensNet: We hear a lot about all the wildfires in California… So let's say there's a fire and they need support in California. You would go there and join the efforts to put the fires out? 
Lauren: Correct. So, the dispatch centers will give all the privately owned contractors a call, and we'll dispatch our trucks from our shop area and send them out to the fires, and they'll arrive on these fires. And once they go through inspections, and lots and lots of more paperwork, they fight fires side by side with other agencies. They perform the same suppression techniques and capabilities, along with the agency firefighters. 
WomensNet: So this is on a contract basis. You're kind of a freelance firefighter, right?  
Lauren: Correct. 
WomensNet: And are the contracts for a certain amount of time? How do you determine when you're needed? 
Lauren: The contracts are on a three year cycle. It's called a VIPER contract, which is a virtual incident procurement contract. And you sign up for it after they do an inspection on you and make sure that you actually have the capabilities that they're looking for. And in the span of three years, you can get called to fires, ranging from seasons of a hundred days or more. You stay there as long as the Forest Service or Cal Fire needs you. You can get extended fire assignments; they're usually 14 days long, but can go up to 21 days long. And there's an option to what they call R and R in place, which means you can rest and relax in a hotel for about two days. Then you go right back to another 14 day assignment, either on the same fire or a different fire.
Last year I was out from June until the end of November, fighting fires and never once came back home. We just sleep in our tents or a big semi truck. They're called sleeper trailers. You can sleep in there and they're almost like coffin-looking things, which you just crawl in and you can go to sleep and you wake up and do it all over again.
WomensNet: I had no idea that businesses like yours existed, but it sounds like they're, as you said, becoming more and more essential to the firefighting process as we're seeing more fires, right? 
Lauren: Yeah, unfortunately, the fires are of an unprecedented magnitude that we're ever seen before. So private contractors are becoming more important in fighting fires. The agencies are having trouble staffing their engines, and coming up with the resources to do it. So private contractors really do play a crucial role in fighting fires across the country. 
WomensNet: It sounds like you are super busy. What do you think has been the secret to your success thus far? 
Lauren: Definitely when I started the company, I wanted to be sure to honor the values that I really hold dear to being an employer. So I use my values as my compass. They really ground me and my decision making when it comes to running the company. 
For example, it's really important for me to put my employees first. They earn very competitive wages at the top end of the pay scale for private contractors. They are the heart of the company, the backbone. So I used to work in risk management for a construction company. And safety is really always at the forefront of my mind. So I make sure that my firefighters have access to safe and reliable equipment, and that they're well trained for the jobs that they have to perform. Because nothing's more important than everybody coming home safely at the end of the day.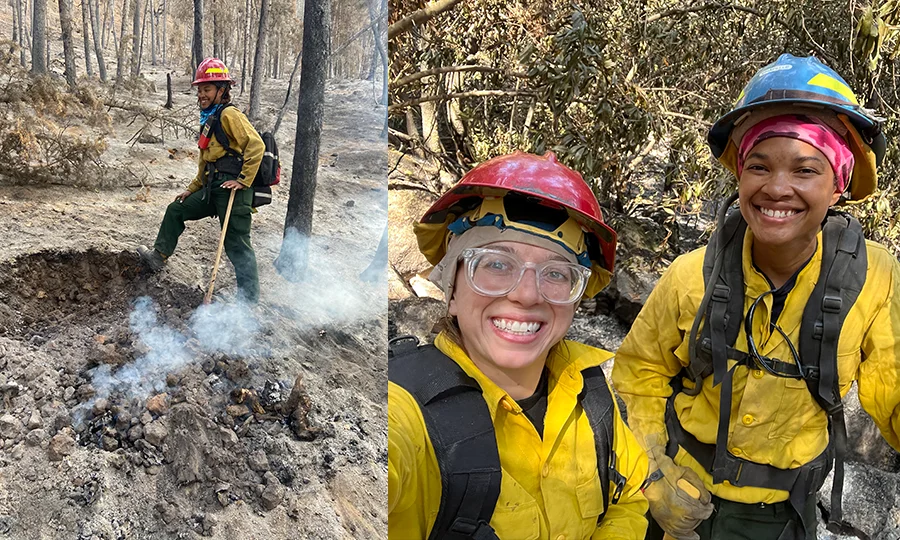 WomensNet: Now that you've won the $10,000 Amber Grant, how are you planning to use that money to grow the business? 
Lauren: Half of the grant is going to be used to increase the water tank capacity of Sabino's fire engine. The government views the highest valued attribute of any fire engine to be the number of gallons that it can haul. And they emphasize this by giving engines with more water, a higher value on the dispatch list. 
Sabino's engine holds the minimum, which is 500 gallons, for type three engine. And by expanding the tank, we'll move up the dispatch list and it'll increase our number of days on fire, which will give us the opportunity to help fight more fires, and generate more income and give more opportunities to our firefighters. 
So I've got those tank plans drawn up. I just need to purchase the materials and get to work fabricating and welding. 
WomensNet: And you'll do that yourself? 
Lauren: Yeah, I'm gonna keep the cost of the expansion down, by doing it in house. I talked to another owner of a truck similar to mine who expanded his tank and it cost him about $12,000. So by doing it in house, I can do it for about half that. 
The other half of the grant money will be used to purchase brand new top of the line firefighting equipment and personal protective equipment for the crew. Because it's really important to me to update our equipment and be able to go beyond what the minimum is that's required by the contract. So it'll be really amazing to get some new tools on the truck. The grant's gonna help us purchase brand new fire shelters and initial attack backpacks and new sets of Nomex clothing, which are those fire resistant yellows and greens that you see wildland firefighters wear.

WomensNet: Once you have increased capacity and improved protection for your employees, what do you think long term? Where are you headed?
Lauren: My two year plan is to focus on building Sabino's reputation in the fire world as being a very professional, reliable contractor who consistently puts out excellent work on the fire line. 
And then beyond that two year mark, when contracts open up again in 2025, I've got two things planned for Sabino's future. The first one is going to be to add another fire engine and a water tender to the contract. This will allow us to help fight more fires. And in addition to being a firefighter for Sabino, I'm also an EMT and I'd really love to use those skills by adding an emergency medical service component to what we do by sending fire-line medics and EMTs to wildland incidents. Because there is a really big need to have medical services on the fire line. 
And this will be a contract option that the government should open up in the near future. So I'm getting prepared to tackle that contract when it comes out. 
WomensNet: Given the success that you've had thus far, do you have any advice for aspiring women business owners? Anything that you would recommend they do to get on the paths to success? 
Lauren: Absolutely. I would say do it, for sure. No matter how daunting it may seem, do your research, make sure it's something you love and care about and are passionate about. Be prepared to step outside of your comfort zone, and definitely find someone in the business you're looking to get into who's willing to mentor you. Because I would not be where I am today without my mentors. 
When I first got the idea to start my own company, I read the government contract for Wildland Fire, and that contract is over a hundred pages long. It's overwhelming. So I had to break it down into smaller chunks because you're not only dealing with the components of running an LLC, you have the added steps of doing business with the federal government. So I went out and bought the largest whiteboard I could find, and I drew a grid on it and broke it into categories and individual steps and prioritized them. And once I could see what I needed to do, right in front of me, I was able to set a goal and set, you know, at least one of these tasks I'm gonna complete every single day. And so Sabino used to be an idea on a whiteboard, but now she's a fire engine with three employees and a federal government contract and the winner of a $10,000 grant. So my advice to women out there is to just do it. 
And with that being said, I'd really like to thank WomensNet and the Amber Grant and everybody involved in this program. What you guys are doing for women is huge. It's huge for me, it's huge for the women who've won this before me, and it will be huge for those who will win after me. As you know, a company in its first two years of business…it is nearly impossible to get financing. So right now everything's coming out of pocket. Money's tight. This grant comes at a really crucial moment in Sabino's development, where I have so many things that I wanna do and need to do for the company, but just very little money to do it. 
So I really wanna thank you guys from the bottom of my heart for what you're doing. It's a huge blessing. Truly honored. There are a ton of women out there who, you know, are amazing, talented women doing things at their companies, and I'm really humbled to have been selected. So, thank you guys for what you're doing for women everywhere. 
WomensNet: You're very welcome. We're very excited to see the success that you will continue to have and hope that this money just helps propel you forward even faster. And we can't wait for updates. 
Lauren: Absolutely. 
WomensNet: Well, thank you again for your time, Lauren. Really appreciate hearing about the business. It's just fascinating, as I'm sure everybody in the WomensNet community will agree. And congratulations again on being our October Amber Grant winner.