We're excited to announce we have our first Qualification Grant Winner! Congratulations Lauren Foster, CEO of Stretch Recipes.
Last week we introduced Stretch Recipes to you along with November's four other qualification finalists.
Since then we interviewed Lauren to learn a little more about herself, her chef, and the Stretch app…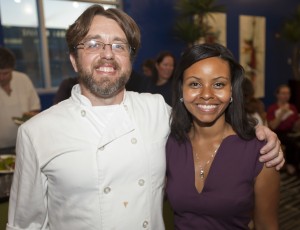 Video Transcript
WN: Do you or your brother use the Stretch app to help save on money?
LF: There's a huge hope that we both will. I know that I will! I can't wait to go grocery shopping with it for the first time.   We are building it so that it empowers users that are already stretched for time and money to make delicious and nutritious menu plans for their families.   We're still signing people up to test. It'd be great to have more sign-ups on our website so we can make it the best grocery tool on the market.
(Here's the link to test the Stretch Recipes App!)
WN: I saw that the app sends coupons too. Are those tailored to your specific shopping list?
LF: The App's coupons will match the items on the shopping list. Therefore, if you're making beef lasagna for dinner, we will match them to available coupon/offers.
WN: When filling out the form to test the app I noticed we had to tell you what foods we dislike. Will the app incorporate that into our specific shopping lists?
LF: Yes, you will be able to eliminate food dislikes or can't haves. So if you're allergic to chickpeas, recipes that are chickpea based won't factor. If you don't like mushrooms, as long as it's not a key ingredient, when you select the recipe, it won't show up on your shopping list.
WN: Could this application work for college students?
LF: Absolutely! We're working on adding more non-stove recipes that students can easily create in their dorms without having to fall back to only ramen.
WN: How did you meet Jonathan Freeman, your Stretch Chef?
LF: A friend of mine, Aimee was a Manager at the Daily Grill in Austin. Before she moved, she told me she had someone for me to meet. She introduced me to Jonathon. This was before I ever knew I would be starting this mission. So about 8 months or so later, I was just starting the company and validating the idea. I also got the opportunity to do a cooking class for 20 people who worked daily with my initial target market. The night before the event, the Chef flaked on me. I called Aimee because I she knew plenty of people in Food & Beverage. She said, "Why don't you call Jonathon?" She gave me his number. I told him about starting my mission and he immediately said, "Yes! I'd love to teach people and test out recipes." He came and the class went perfectly! He's had my back ever since.
WN: Is there a set date for the app to release? And what devices will it be available on?
LF: It'll be on all devices with web access. We're going to start with the web until we get everything tested and down to a science. Then, we'll go native on Android and iOS.   We haven't set a date yet, but we're ambitious and targeting Spring 2015 for a limited group in Austin to have access to the web app.
As always, thank you for reading! Remember we award a grant every month – if interested, here's the link to apply!
If you'd like to vote for Lauren to win the $2,000 Amber Grant you can vote for her here.