Where Is She Now?
Suplogix has rebranded to Bluemonic.
After revealing our May Qualification Grant Finalists last week, we're excited to announce our qualification grant winner. Congrats Shannon MacDowell, co-founder of SUPLOGIX
Read on to learn all about Shannon and her business.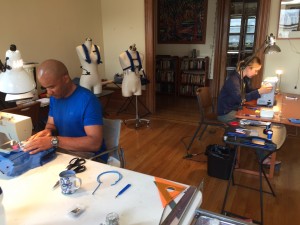 Video Transcript
WN: For those that don't know SUPLOGIX, tell us a little about your business.
SM: Carey Bond and I created SUPLOGIX in 2012 fueled by our passion for stand up paddle boarding and our desire to make the sport as accessible as possible for participants of all abilities. As instructors and guides on the dynamic waters of the Hudson River and New York Harbor we saw the powerful impact of getting people out on the water. We started the company to respond to the need for scientific information on the biomechanics of SUP as the sport was becoming more popular. Working with BTS Bioengineering we pioneered the use of wireless electromyography to study what muscles are engaged when paddling.
Then we participated in the SEAPaddle NYC 2013, a grueling 25 mile race around Manhattan Island. This was a pivotal moment. The event demands significant hydration and wearing a USCG approved life jacket. No product existed that combined these two functions. So we decided to create one. More than 2 years later we are preparing to get our design Coast Guard, approved and offer our solution to the problem of hydration and flotation for paddlers worldwide.
WN: What made you decide to move to Manhattan from Alaska?
SM: Originally I came to New York City to pursue a dance career. After graduating from Rutgers with a BFA it was a natural transition for me to move to NYC. I danced professionally for modern companies and choreographers. Although I came for dance, once I discovered how amazing the waters are around New York City, I felt reconnected to my Alaskan paddling roots so I stayed!
WN: How did you and your partner decide to join forces and create SUPLOGIX?
SM: Carey and I both come from diverse backgrounds that encompass fitness, outdoors pursuits, design and sewing. We met through paddling and realized we had a lot in common and shared similar professional goals. Our combined experience has enabled us to work creatively and efficiently. With our design, cut­-and­-sew studio, we do all prototype development and then take them straight out onto the river for testing.
WN: Do you know when your Hydration Flotation life jacket will available for sale?
SM: Pending US Coast Guard Approval we're aiming to be on the market by 1st quarter of 2017.
WN: What advice would you give to other female entrepreneurs?
SM: My advice would be if you feel strongly that you have something to contribute through a product or service, then take the plunge, be a humble student of the process and embrace the journey. So much of business is also about building meaningful relationships and honoring these.
I really try to make the best use of the resources that are available including incredible opportunities from companies such as WomensNet, I have learned so much from the knowledge and experience of others during this process.
Learn More about Shannon in here video here:
And if you'd like to vote for Shannon to win the $1,000 Amber Grant, you can vote for her here.
Thanks for reading! Remember that we award a grant every month – if interested, please apply today.