On Friday, we announced our October Amber Grant Finalists.  Today, we're delighted to reveal the $1,000 recipient and the qualifier for our $10,000 year-end Amber Grant.
Congratulations to Katarina Samardzija, Founder of Locker Lifestyle. A college student and athlete, Katarina's career path took an unexpected turn due to one unfortunate experience. Read about that — and much more — in her insightful interview.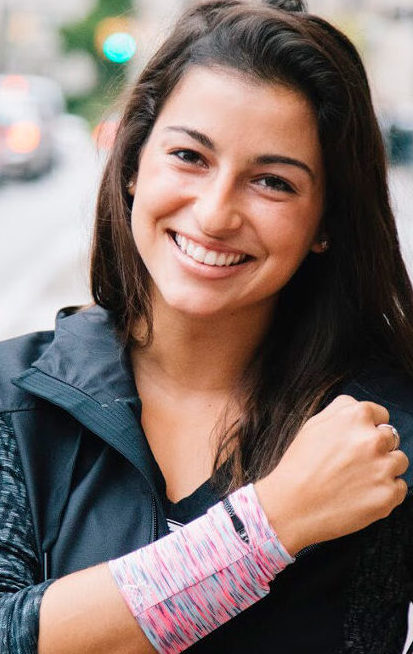 Video Transcript
WN: Share the genesis of Locker Lifestyle — and how that turned into three patent-pending products
KS: I play tennis for my university. I workout and practice six days a week, while managing my full-time student responsibilities.
My story began when one day after practice my teammates and I went to our gym. All we needed was a key & ID, but our locker didn't lock, gym cubbies were open, and when we had our valuables stolen, I knew I had to do something about it. I envisioned the perfect product but realized that since it didn't exist, I was determined to create it.
Before starting Locker Lifestyle, I never designed a website, sewed, or knew what it meant to be an entrepreneur. Lucky for me, my momma and (later promoted as Locker Lifestyle's "Momager") owned a successful bridal salon with a talented seamstress staff. I drew up designs and after many revisions, the very first product, the Wrist Locker, came to life!
After enormous interest by individuals of all ages, I knew I was on to something. I changed my major from biomedical sciences to entrepreneurship and marketing that year.
I consider myself lucky having found what I want to do with my life. College is a place to discover yourself and your path, and I've found mine through entrepreneurship and this company. I strive to run this business after completing college in less than a year, create new products, and build my team. 
Fast forward to the present. I currently sell three patent-pending products-the Wrist Locker, Head Locker, and Little Locker. All are designed to safely stash small valuables such as your cash, keys, ID, phone & more, perfect for concerts, fitness, traveling, or even walking your dog.
Well, one day this blogger messaged me out of the blue. She said how excited she was to find my products because she was going to buy one instantly and for a very good reason. She went out for her typical run and didn't want to bring a bulky running belt for her ID. She was hit by a car and knocked unconscious for hours. The police couldn't identify her, and the hospital couldn't tell her parents. Thankfully she's okay, but now she never runs without her Wrist Locker. It was then I realized not only am I providing convenience but safety and a piece of mind.
Locker Lifestyle would not have been possible without my mom's bridal store. I was practically raised there. In January of 2017, my mother lost her store to a devastating fire. Not only did she lose her business of 26 years, but I lost all of my materials, patterns, and equipment to make the product.
After losing everything, I was back to square one. Even with my low student budget, I've since found a temporary place to manufacture, develop my website, and sell almost 2000 units of product without a single dollar spent on marketing.
WN: As a college student, athlete, and entrepreneur, how do you manage your time?
KS: Having so many different responsibilities has made me an excellent planner! I rely heavily on my monthly/weekly/daily planner, in addition to the many lists I make. Every morning I craft a list numbered 1-30 (on an average day) to prioritize the tasks that I must accomplish. For example, I do not move on to number five if I have not yet completed the fourth task. This habit forces me to finish something I may not want to do but is extremely important. On my hectic days full of class and tennis practice, I have a sheet that helps me plan my days by the hour. As crazy as that is, it keeps me on task and efficient.
As crazy as my days can be, I love what I do. I am on a mission to help active individuals like myself enjoy a worry-free active lifestyle.
WN: What distribution channels do you currently utilize? 
KS: Lockerlifestyle.com is my primary distribution channel, and I ship across the country. I currently sell in a few retail locations in Chicago, Boulder, and Grand Rapids. One of my most significant, new partners is FedEx where our team is working on a design to co-logo with the brand for promotional opportunities!
WN: How do you plan to use the grant funds?
KS: I craft everything by myself, with the generous help of family and friends. This grant takes my company to the next level. Locker Lifestyle has grown beyond being my dorm-room startup, where I fulfill all orders. My main problem is that I can't keep up with demand. Therefore, I need the grant money more than ever.
The $10,000 grant would allow me to invest in the first large-scale manufacturing batch and boost my marketing budget to attend local expos!
WN: What piece(s) of advice would you give to someone looking to start their own business?
KS: First, my passion stems from the motivation to inspire others. I am not only driven by the hurdles I've overcome to develop and market products for the benefit of any individual but to encourage and mentor others to seek their goals, as my mentors have done so for me.
My passion as an individual and a CEO collide because I am working to inspire other young women in business. At a few local pitch competitions I've attended, there was a serious lack of female founders. So, I recently created the Locker Lifestyle Ambassador Program. I have 30 incredible women who love to live actively, like me, and even aspire to run their own businesses one day. I am working to provide them the tools to stay fit and learn what it takes to build something out of nothing.
The best piece of advice I would give someone looking to start their own business is to leverage the people and resources you have around you. I would not be where I am with the constant support from my family and mentors. Don't be afraid to ask for help or feedback because an entrepreneur is continuously improving!