We announced five April Amber Grant finalists last week. Today we're happy to share the $4,000 recipient, who is also our fifth qualifier for our $25,000 year-end Amber Grant.
Congratulations to Anna Golda Yu of  Work & Tot. You can learn about her Queens-based business — and her tips for other female entrepreneurs — below.
Also, congratulations to the four runners-up who each earned a $1,000 grant: The Bodega, Ready to Learn ABA, Great Work and Sweet Marie's Baking.
Video Transcript
WN: What is Work & Tot and what led to its launch?
Anna: Work & Tot is a co-working & play-care space based in Rego Park, Queens. Under one roof we provide parents with a space where they can work, connect, learn and gather in formal and informal settings, while providing kids a fun and safe environment that helps spark their imagination, encourages play and fosters collaboration under supervision of our dedicated play-educators.
As more parents work from home, the more difficult it becomes to uphold a routine once children enter the equation. As the country and the world adapts to an unprecedented reality of working from home while caring for little ones, it becomes more apparent just how much we need the right network of support. Truth is, we all need a village to lean on. For some it's family, for others it's friends, daycares or spaces like Work & Tot.
When my kid was born in 2016, with my brain still in a fog, I remember caring for a colicky baby while trying to complete a project. As my baby turned into a monkey — I mean a toddler — trying to align phone calls with nap times rarely worked and last-minute childcare options were either not available or out of my budget. Work & Tot was created to meet a desperate need that I encountered as a working mom — and I figured I couldn't be the only one. Once I started talking to friends, I knew I wasn't.
For two years I worked and re-worked my business plan. I worked during my kid's nap times and as my family slept, which reconfirmed my belief that niche co-working spaces designed for parents were indeed needed. Every step of the way, with support and encouragement from my family, I embraced every victory and used every setback to my advantage. But with plenty of tears and even more coffee, I kept going.
Once I found a location (in Rego Park, Queens) that met all my requirements, we wasted no time. On September 21, 2019, with streaks of peachy/pink paint drying in my hair and under my nails, we opened doors to Work & Tot.
What makes Work & Tot truly special is our connection to our community. Ability to adapt is essential, especially now, in order for a business to survive. As the office landscape is shifting, we too are embracing change and choosing to see this as an opportunity to help our community.
We will still provide flexible booking options at affordable prices, but we already started reconfiguring our physical space using additional modular walls to create more private and semi private spaces. We are installing custom safety 'sneeze guards', adding more freestanding work stations, portable sinks and disinfecting products, and are implementing temperature checks for every member. We are figuring out our phases of reopening and will adapt as needed along the way.
WN: Did you have any prior business experience?
Anna: I opened my first business in 2011, a collaborative venture with my mother who has been in fashion for over 45 years. It was quite a leap from working in advertising and design, a leap of careers and countries. I moved from NYC back to Moscow, Russia where my family is from originally and I opened a retro social club and a vintage showroom called Lady May.
Through fashion workshops and events, I learned how to work with and also how to listen to clients. I learned about the importance of human connection and fostering relationships, how to plan events, manage staff and take on responsibility of being in charge while working around the clock. I also learned about the less glamorous side of running a business. When you're in charge you need to learn how to do every job, from washing floors, to doing inventory; no job is too small or too hard.
After 3 years in Russia, it was time to return home to NYC, where I opened a not for profit called Vera.Foundation. Our mission was to improve the quality of life and care for terminally ill children in Easter Europe. Nothing could prepare me for starting and running a not for profit, but what did help was that I managed to assemble an incredible board of directors who believed in our mission and who provided support and feedback every step of the way. Running a not for profit taught me how to ask for help, organize a fundraiser, stretch every penny and truly hustle in order to move mountains.
WN: What type of feedback have you received from customers?
Anna: As an owner of a small, community based business, asking questions, collecting feedback and adapting accordingly is essential. The feedback has been encouraging and positive, which means we're on the right track. But in order not to get complacent we are also making sure to check in with our recurring members to ask for constructive feedback that helps us grow and evolve.
Here are some of the comments we received prior to the stay-at-home orders:
"This is a total parent lifesaver! I came here for the first time today, in a pinch because I had an important video conference to do and no childcare — and this place was the perfect answer to my problem! Loved that it was so easy, seamless, and even better, I loved that I could work just feet away from my toddler as she played! I loved the owner, she made me feel so at ease, and I love the concept even more!" ~Sabrina~
"Friendly staff and provide the ease to get work done while being able to watch your child through camera access." ~Evelyn~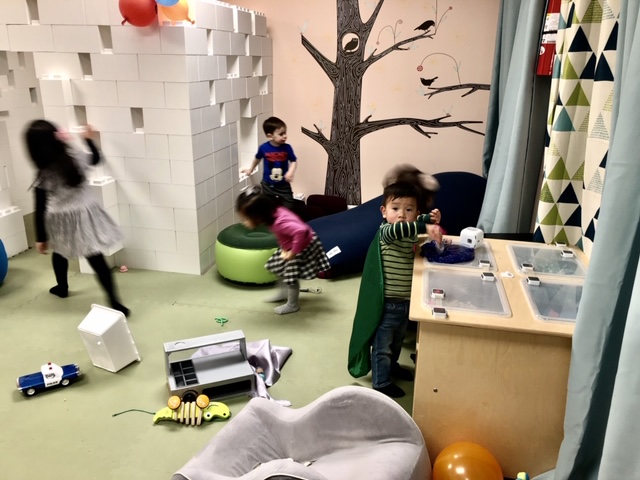 WN: What are your goals for Work & Tot?
Anna: Right now, our focus is on getting through the stay-at home period and installing every necessary safety measure for when we can reopen. We are in the process of adapting not only our space but also our services to allow members to be safe and productive. Initially, that means putting the focus on accommodating working parents, and in phases, reintroducing child supervision options, as well as introducing help with remote learning.
We need to continue working on marketing in order to acquire more clients. This will be done by establishing relationships with medium size companies whose employees need our services. Right now, our business operates as a recreational facility with on site child supervision; we hope to eventually operate the childcare side as a daycare providing parents with more flexibility and longer hours.
WN: Share some advice you'd give an aspiring female entrepreneur
Anna: Taking a risk is hard. When it's calculated risk, it's that much easier, so my advice is to learn to love and understand numbers (even if you grew up hating math).
Don't be afraid to let go of an idea or a partnership if it's not a good fit; it's better to stand on your own than have the wrong partner. Don't be afraid to seek out help and advice, develop a network and continue developing a network while nurturing not only personal but professional relationships. Finally, don't let fear of failure or rejection stop you; failure and rejection are a given, so think of them as stepping stones instead.
When Work & Tot was just an idea, one quote helped me get through rejection and setbacks:
"Many of life's failures are people who did not realize how close they were to success when they gave up." ~Thomas Edison
So ladies, do not give up!
As small business owners are struggling to survive, with monthly expenses mounting and the future not always certain, I keep thinking of Miss Madeira's mottos. (She was the founder of The Madeira School, an all girls high school I attended). "Function in disaster. Finish in style and keep calm at the very center of your being." So let's get through these hard times in style and grace, supporting each other the best we can — because we can.