After revealing November's Qualification Grant Finalists last week, we're excited to announce our qualification grant winner. Congrats Kristy McDonough, Owner of Baked Cookie Company!f
Read on to learn all about Kristy and her cookie company, (yum)!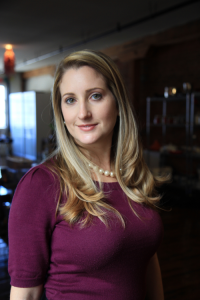 Video Transcript
WN: Talk about why you started your journey with Baked Cookie Company
KD:I have been in the kitchen most of my life. Stealing butter from the refrigerator at age 3, perfecting PB&J's at age 6, baking anything I could from a box as soon as I could read and as soon as my parents let me use the oven on my own. And shortly thereafter, raiding my mother's cookbooks to make the amplest spread of Christmas Cookies my little hands could produce.
The start of this business really began while I was in high school. Being unsatisfied with most of the cookies on the market- they were too small, too crumbly, too dry, not enough chocolate chips, I unknowingly began to develop my own special recipe for the classic chocolate chip cookie. I wanted something that was plump, moist and exploding with chocolate chips. With hundreds of trials under my belt, this recipe you taste today took me 10 years to perfect and I am delighted to share it with you.
Additionally, I believe there is so much more to a cookie that meets the eye. I believe cookies should be savored and that you should taste that comfort of home in every bite. For me, cookies truly are a symbol of not only something sweet, but also a symbol of love and comfort. It has always amazed me how our senses can make us feel and remember experiences so strongly. For me, the simple smell of a cookie baking takes me back to my childhood. It is these feelings and comforts of home that I want to share with the world and what motivates me to stay on this cookie filled journey!
WN: Who's responsible for the creation of these cookies?
KD: I am responsible for all cookie creation! I believe cookies should be made the old fashioned way- with fresh unsalted butter, granulated sugar and only the best chocolate chips. Our cookies are scooped and formed by hand and baked to perfect color of golden brown. Every one of our recipes was developed and perfected to ensure only the most comforting, tasty, plump, moist and indulgent cookie would be produced just for you. Our expectation to make only the best cookies is simply unmatched.
I do have to admit that though I may do all the baking, there are many supports in my life that have helped me along the way. I have had many family, friends and colleagues jump into help in other areas- working with me at Farmers Markets, offering marketing advice, dish washing and even taste tasting (most really don't mind the taste testing part!). I could not be where I am today without them!
WN: What are the most effective marketing channels for your company?
KD: The most effective marketing channel for us is currently conducting sample drops around the Denver Area. Every time I bake a batch of cookies, I make a few extra and select a few local businesses to bring some cookies to. I pop in to introduce myself, I bring cookies, napkins and some menus. (I'll even put a special promo code on the menus for a discount) Firstly, the business is always surprised. Someone bringing in cookies doesn't happen every day. Secondly, they get to try my product immediately and they always ask questions about other products and services. And Three, no one really ever says no to a free cookie! This method has turned into a number of repeat customers and consistent weekly orders. Additionally, this is a great way to network in my community and make personal connections with future clients!
WN: What are your long-term goals for Baked Cookie Company?
KD: My primary long term goal is open up a bakery store front of our own. Every decision I make has this goal in mind. I could be taking the easy way out- baking and freezing dough, pre-baking cookies and freezing them, or only accepting orders on certain days, but I simply refuse. I also want the Baked Cookie Company named to be equated with quality, freshness, comfort and love. This is why every single cookie is baked to order, regardless of the size of your order. This is why we scoop and roll every cookie by hand. This is why we pay so much attention to detail.
One of the number one questions we get asked is where our shop is located. And I always answer "We are working on it one cookie at a time!"
WN: What advice would you give to other female entrepreneurs?
KD: I would give two pieces of advice to female entrepreneurs: 1.) Be Persistent and 2.) Be Vulnerable.
Being persistent is a given. Regardless of the struggle or setback, you must keep pressing on and taking another step. The same goes for having a success. Enjoy it in the moment, but don't let it blind you. Your progress is contingent to your persistence- so keep going- one step at a time, (or one cookie at a time!).
Being Vulnerable was the hardest lesson for me to learn. I have personally struggled with asking for help, putting myself and my business out there and approaching others for advice. The truth is though, I have made the greatest strides in my business when I took a risk at being vulnerable, when I have asked other businesses for help or support and simply walked into a business and said "Hi! My name is Kristy and I own a cookie business- here's a sample." It these moments that I have learned about my capabilities and the fact that the worst that can happen is that some just might say 'No.' So put yourself out there, be a little vulnerable and see what happens.
Thanks for reading! Remember that we award a grant every month – if interested, please apply today.
Also Note: The new voting page for the 2016, $1,000 Amber grant will be posted after 2015's Amber Grant Winner is Selected.