Recently, we announced five January Amber Grant finalists. After much deliberation, we're excited to share the $4,000 recipient and the qualifier for our $25,000 year-end Amber Grant.
Congratulations to Brooke Lehman of Cleveland Blacksmithing. In our interview, Brooke discusses her unique business, shares a near and dear charitable cause, and much more.
Video Transcript
WN: Share the origin of Cleveland Blacksmithing and what the business provides
BL: Cleveland Blacksmithing is a community learning blacksmith shop based in Cleveland, Ohio open to all those interested in blacksmithing, fabrication, welding, and metal arts. On a daily basis, we open our blacksmith shop to teaching classes, workshops, private lessons, and group team building events. Our enrollment is roughly 50/50 men and women ranging from kids ages 8 and up to seniors who wish to explore a new skill or simply experience metalworking for the first time. We also have a maker-space membership program providing open studio time to those who wish to continue learning independently.
My husband, Gavin, leads classes and runs daily operations in the shop. I keep the wheels turning on the back end focusing on marketing, programming, bookkeeping, customer service, product development, community engagement, and member services. I am 51% owner due to my professional background in small business branding, marketing, graphic and web design. My husband has been a blacksmith for over 20 years, producing forged architectural and sculptural iron as commissioned projects. However, he is a natural born teacher, and being the entrepreneur I am, I  just couldn't let him keep the joy he brings to his craft all to himself.
And what a joy it is! It is widely known that the practice of a craft promotes relief from stress and a sense of accomplishment, as well as, increased happiness, reduced anxiety, and enhanced confidence.⁠ I always refer to our shop as "the place where you leave your troubles at the door" because no matter what stressors you had during the day, once you're there and working in the shop, all that fades away. I know this first hand, because at the end of the day, I often exchange my laptop for a hammer and work in the shop. Owning a business is the most the stressful thing I've ever done…. and I have a teenager!… so, as my own form of self-care, I find it helps to get out of my head and work with my hands. I forge iron and weld steel. I know how to properly and safely use all power tools including welders, grinders, sanders, a variety of saws, the oxy-acetylene torches, and our 1951 Little Giant power hammer – which is super cool.
WN: Can you take us through a typical class?
BL: We typically start folks off in a fun and energetic beginner level blacksmithing class which guarantees good times and enthusiastic hands-on instruction that is simple and informative. Participants have the freedom to explore different ways of moving hot metal after learning basic forging skills. Working at an anvil with hammers and tongs, they practice techniques such as scrolling, drawing out, and twisting by making projects to take home such as hooks, fire pokers, bottle openers, pendants, or some just call it art!
I've been hanging around the blacksmith shop for going on 10 years. Therefore, I am often Gavin's teaching assistant. During classes, I assist participants with their questions, make recommendations on how to improve their technique, and in the end, help them complete their projects to take home and enjoy.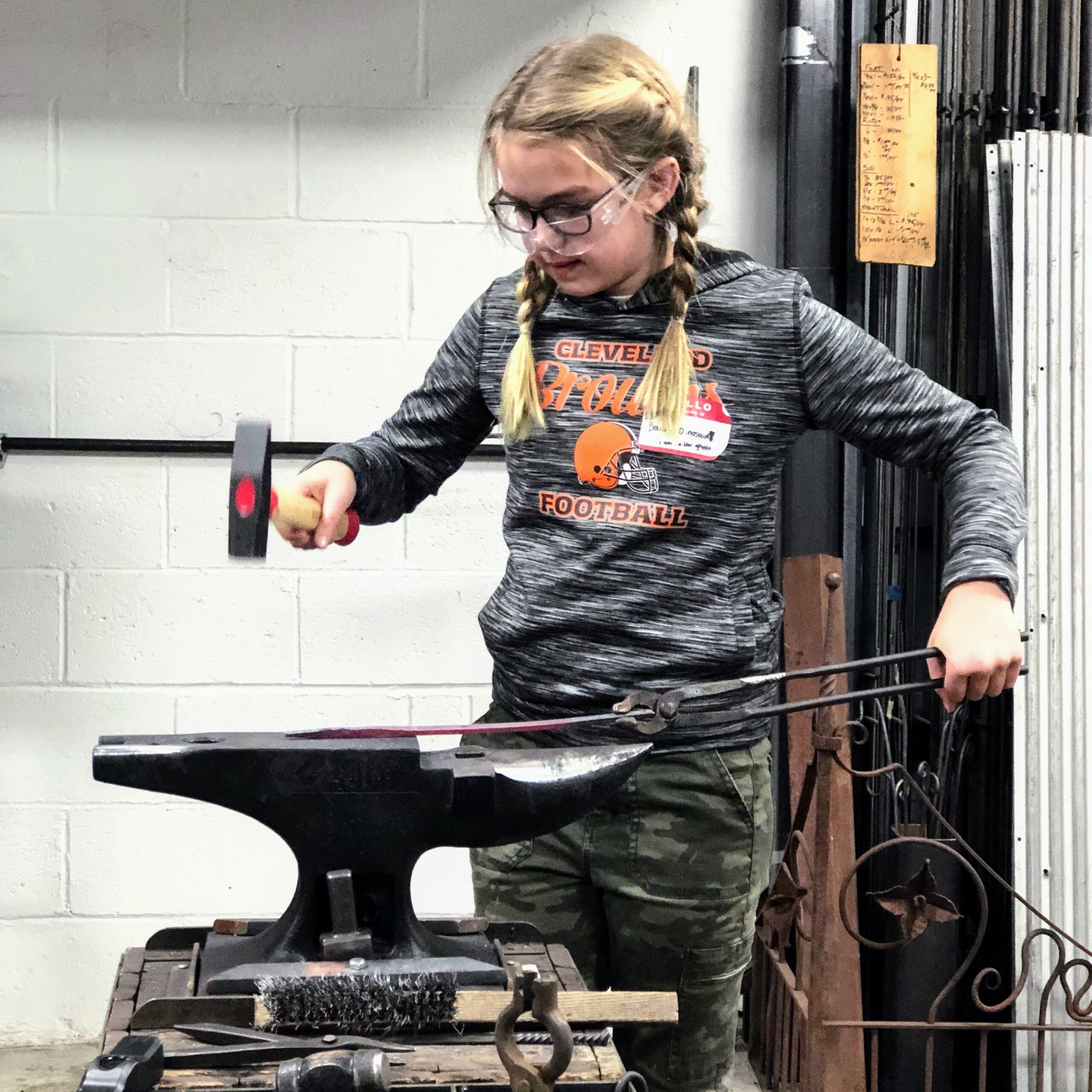 WN: How are you spreading the word about Cleveland Blacksmithing?
BL: While we certainly market our business online by having a strong brand, a strategically built website, and keeping our social media platforms active, being a local business, we definitely rely on word-of-mouth and loyalty from our customers. It's extremely important to us to provide an authentic and joyful experience for each and every person that comes to the shop. Whether you come in to learn something new, whether you're there for a design meeting about custom ironwork, or you're there because you stopped in off the street out of curiosity, everyone is welcome and treated as so. And I think that goes a really long way in our case. (See our Facebook and Google reviews!)
WN: Tell us about the Jessi Combs Foundation and its connection to the business
BL: Whew, this is a heartfelt one. For those that don't know, Jessi Combs was a badass babe. She was at the helm of women doing what men have traditionally done. From moto-sports to welding and fabrication, Jessi led the way for women to explore the power of making. Last year, we had the pleasure of meeting Jessi and hearing her keynote about women in the trades, and we
were truly inspired by her presence and thoughts. Soon after, she lost her life while attempting to better her four-wheel land speed record. As a result, The Jessi Combs Foundation was formed in her honor, dedicated to educating, inspiring and empowering the next generation of female trailblazers and stereotype-breakers.
In support, we've developed a quarterly Women's Welding Night with a portion of our proceeds being donated to the Jessi Combs Foundation. And, I'm also on the Maker Summer School coordinating committee with a set a goal to raise $10,000 for the Foundation. Maker Summer School is a national conference held in our hometown aimed towards professional and aspiring content creators who want to build their maker skills as well as their business through marketing and branding in an atmosphere designed to foster hands-on learning and growth.
WN: What advice would you give an aspiring female entrepreneur?
BL: I think the best advice I could give to an aspiring female entrepreneur, is to solve something meaningful. That something can be little or big, but it must be meaningful to you. I've found owning a business is most fulfilling when you're making an impact and touching lives. And when you're making an impact, it drives you to stick with it through the hard times. Business is busy and life is messy. You're going to not know the answers. You're going to be overwhelmed. You're going to doubt yourself. You're going to be out of your comfort zone. You're going to fail. But….when you care about the work you're doing in the world, you'll show up every day and find the answers. You'll push past the overwhelm. You'll gain confidence. You'll learn and you'll grow something that far exceeds the expectations you started with.
WN: If you have anything else to share, please do — this is your platform!
BL: We LOVE this business and the experience it brings to people because, the truth is, this business isn't about us. It's about people. It's about the teen that needs direction and is interested in learning a lifelong skill. It's about the retiree that needs to work with his hands and be productive. It's about the artists that need a place to explore and create. It's about the families and friends that choose to create memories through shared experiences. It's about enriching peoples lives while simultaneously preserving tradition. And that, my friends, is pretty darn cool.