We're thrilled to announce the $10,000 October Amber Grant recipient. Congratulations to Karina Rodriguez, Owner of Master Residential and Commercial Cleaning. Karina is the eleventh qualifier for the $25,000 year-end Amber Grant.
To learn about her Virginia-based business — and gain her insights as a new business owner — continue on for our interview and Karina's video.
KR: Our mission is to provide the customer with an all-cleaning service in an environmentally sound, completely trustworthy and professional manner. Our services will exceed the expectations of our customers through our tenacity and commitment.
We provide initial deep cleaning and ongoing high quality commercial cleaning. We protect the health of a business' employees and customers by disinfecting their facility with our medical grade disinfectant solution. That is delivered by fogging machines that will ensure that all viruses and germs are killed on every surface angle (360) at request. Our product is safe to use on surfaces and does not require any wiping so there's no need to move furniture around.
This year, every one of us has been through so much because of COVID-19. This has brought more awareness on our daily cleanliness both at home and work. I know my business can help put the minds of families and businesses at ease.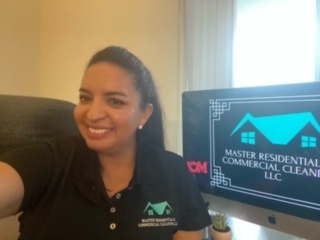 WN: What differentiates you from competitors?
KR: My business will be a place where other Hispanic women can feel inspired and motivated. It will be a place that will give opportunity to get that start that others have rejected.
Several times I have volunteered to speak at a church sponsored by the bank I worked at. There I was able to help women understand how to establish their basic financial relationship with a bank. It was then that I realized that I made an impact in the lives of so many women. It is our culture that will help us stand out.
WN: How are you planning to market the Master R&C Cleaning brand?
KR: One of the things will be to update our website according to the promotion or season. We will post content on Facebook to help bring awareness to the company, post YouTube Ads with tips and tricks on cleaning (especially with COVID-19 updates) and branding the company's message through Instagram.
We will also purchase equipment for my business. Being able to service commercial clients and/or government contracts requires me to be able to meet the service demand. A portion of the funds will go to employee training and safety awareness. Another portion of the Grant will go to the branding, uniforms and marketing for my company.
Another way I will be planning to market my business is by partnering up with companies that I can compliment as they can compliment me (window cleaning, landscaping, etc). I will also create a high-end video that shows the Master R & C Cleaning story and my background. Finally, I will improve our retargeting process for future and current clients.
WN: What are some upcoming milestones for Master R&C Cleaning?
KR: Winning the Amber Grant will help me market my message to Women of all ethnicities and backgrounds. To give them the opportunity that few would offer while helping the families through caring for their well being and cleanliness. The grant will also help with updating the website design and function, in addition to obtaining proper commercial equipment. This way I can help employ women in my community, create workshops and events in my community for women where English is not their first language.
There is a misconception in commercial contracts or government contracts that it's a difficult, scary, hoop jumping task both attaining and servicing. But in reality it takes hard work and lots of reading and mentorship to fully grasp. It takes commitment and dedication to be in the position I am in today, but not impossible.
There is no better way I can say that I am able to accomplish things on my own. Let me explain. For months I was able to study and work on my business after my 9-5 job. I, like many moms that have a full time job, have kids and a loving husband. I try to balance my life to accomplish my dream of having a business of my own, and that takes understanding and sacrifice from everyone. A business that I can employ moms in need of jobs.
I can say that I have successfully obtained legal documents for my LLC and EIN Tax ID number. Being successful in legalizing my company and reading pages of laws, regulations, stipulations on my own has not been easy, but I did it.
WN: Share some advice you'd give an aspiring female entrepreneur.
KR: I immigrated to the USA back in 2000. I put myself through Adult School and learned English as a second language. I was fortunate to learn how to coach, be a leader, be an advocate to the Spanish Community and be comfortable with table events. But I know I could accomplish more than working my 9-5 job. Having an accent may be one of my main challenges that affects my confidence. Through my working life at the bank I had the privilege of seeing first hand all that hard working mothers do. My mother was a single mom who raised four kids. I admire her with all my heart because she was resourceful. She found every way to work to provide for my brothers and I. I could only imagine what challenges she took on to make me who I am. One of the things she did was selling food on the streets. Everyday after school after finishing my school work I helped her from the age of 12 years old. She is the one who taught me that working hard women CAN accomplish everything if you put your mind into it.
I asked myself numerous times, "What am I passionate about?" My family and friends always complimented me on my cleanliness and keeping everything organized. Having a clean and organized house gives me a great feeling with a fresh start on living. I want to give to those with a busy lifestyle that same feeling.
I started my business in July of 2020. Ever since I have spent hours learning how to create, launch, and run a cleaning business. Staying inspired is not easy. Thank you to WomensNet for giving support to all Women-Owned Business and to GIVE me MOTIVATION to continue to DREAM BIG.
Establishing a business is not impossible as long as you have the willingness to spend time reading, learning and doing so English is not a barrier.
I found out that there are 1.9M Hispanic women-owned businesses in the USA; that's only 6% of 33M of all the US businesses. I want to break the stereotype about Latina women, that we NOT ONLY work in cleaning companies, but we can OWN and run a business, if you have the willingness to do it.
I am the first woman in my family to own a business. To me, it's a huge accomplishment as an immigrant woman, especially because English is not my first language. I want to create a system to help Hispanic women, but most importantly to INSPIRE them to own their business with little or no English.
FIND what you are passionate to do. Focus, learn and spend extra time to educate yourself. The most important thing is to show my daughter and hispanic women that you can achieve everything you want to do. This Grant not only will help my business, but my local community too. It will change so many women's lives through their involvement.
WN: If you have anything else to share, please do!
KR: I want to be the first influence, mentor and /or leader in my daughter's life (12 years old). With my achievements it will make a bigger impact in her life. So she can learn entrepreneurship, but most importantly to be kind and help others. Everything I did to this point is progress that so many moms struggle with and are in need of mentors like me to show them that it can be done. With that said, I will commit to make a difference in my local community by giving back in numerous ways. One of the ways would be to offer them jobs. Another is to help them progress in accomplishing their business dreams.